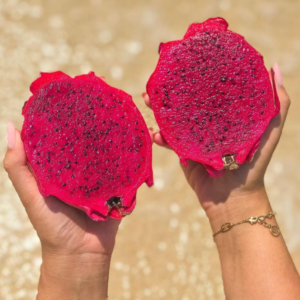 It was a rainy Friday in Oahu and Yura and I decided to order breakfast in bed at our hotel.  He chose the traditional Hawaiian dish Loco Mocco and I opted for an açaí bow.  Unfortunately,  something in that bowl (maybe the bee pollen or blueberries?) was off and I ended up with a case of mild food poisoning and couldn't leave the hotel most of the day.  Ever since then, once a dietary staple,  açaí bowls have become repulsive to me.  Being a lover of smoothie bowls,  I looked for an alternative and discovered pitaya.  And I love it so much more than açaí!  For one,  the bright pink hue is aesthetically pleasing.  And also it is easier to blend when using it in a frozen form and has a smoother, creamier taste to it overall.  In this blog post,  I am going to share the benefits of this superfood and my favorite pitaya smoothie bowl recipe.
Pitaya fruit,  also known as Dragon Fruit is a low sugar, high fibre and low carb tropical fruit.  It is native to south Mexico, the coasts of Guatemala, Costa Rica and El Salvador.  Pitaya is not only high in fibre making it great for digestion,  it's also a good source of magnesium which helps with muscle pain and nerve function.  Pitaya may help lower blood pressure and cholesterol.  The high vitamin and mineral content makes it an immunity booster which is essential for winter!   Calcium and phosphorus help strengthen bones and teeth and may prevent osteoporosis.  The high vitamin B content assists with digestion,  healthy metabolism,  nerve and cellular health and brain function.  Pitaya is also high in Vitamin A in the form of carotene needed for proper color vision and helps prevent blindness.  Pitaya is also an anti-inflammatory which helps decrease puffiness,  joint pains and heal wounds faster.  As if all these health benefits weren't enough,  it's also loaded in antioxidants and essential fatty acids which make our skin glow, appear younger and more supple and fight off blemishes!
I think it's fair to say that this beautiful, day-glo pink tropical fruit has her moment in the spotlight!  You will probably be as hooked as me.  Here's a recipe for my go to pitaya smoothie bowl.  The color alone is worth making it.  I love a smoothie bowl pre workout or as lunch when I am on the go and working on clients.  There's something about eating it with a spoon and adding texture on top that makes it more satisfying that a traditional protein shake.
4 oz coconut water (I prefer Harmless Harvest) 
1/2 cup of frozen pitaya cubes
1/2 frozen banana (I slice mine ahead of time and freeze it for easier blending)
Optional-  a generous handful of fresh spinach
1 scoop of Girl and the Sea collagen powder
1 scoop of grass-fed organic whey protein powder
5g Sun Warrior vegan creatine powder
1 dropper of Rainbow 11:11 mushroom tincture  RAINBO 11:11 SUPER-MULTI MUSHROOM SYNERGY 3.4oz / 100ml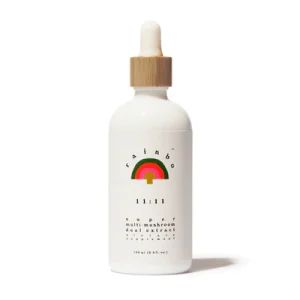 To Garnish:
Sliced strawberries, bananas or any other fruit you fancy
Almond or peanut butter or PB2 paste if you want less fat and cals
1/4 cup of granola (I love nutbar granola and stock up when I'm in Toronto)
Chia seeds, coconut shreds, bee pollen and cacao nibs also work great for added texture!
2 PACK BUNDLE GIRL & THE SEA 100% PURE MARINE COLLAGEN UNFLAVOURED 7.8oz 221g