Making 'Being Good' Easier Than Ever – BLUXOM's Top 10 List for High-Quality, Conscious,  Functional Beauty and Wellness Products for Summer 2023
SOLEIL TOUJOURS CLEAN CONSCIOUS ANTIOXIDANT SUNSCREEN MIST SPF 50 6oz / 170g
We love the convenience of a spray can- just point and shoot.   You can always find one in the cup holder of my car,  I apply it on my hands when I am driving and of course for those spur of the moment trips to the beach.   It's also 70% organic and reef safe. 
AUSTRALIAN NATURAL PROTEIN COMPANY PURE VANILLA BEAN GRASS-FED WHEY PROTEIN 1kg / 2.20lbs 33 SERVINGS
In the summer, I make a lot of smoothies after my workouts to get all the nutrients and protein I need.  Australian Natural Protein Company's protein is super clean, a natural probiotic, non GMO, grass fed and tasty.  I love that it's made of only 5 ingredients and you can easily pronounce them all.  No fillers or junk,  just the good stuff.  Smoothies are fast, cold and also help satisfy my craving for ice cream.  A smoothie bowl is an adult ice cream sundae!
BLUXOM CITRUS BODY OIL 5.92 oz / 175ml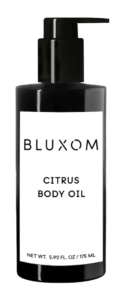 I use our body oil year round,  you won't catch me using a lotion.   Our oil is as clean and natural as it gets and it absorbs into damp skin instantly and feels weightless and non sticky.   When you are showing more skin in the summer months,  adding our body oil to your routine is essential.   Your skin will glow, be softer than ever and it also helps soothe a sunburn.   The citrusy smell is intoxicating and just smells like SoCal summer. 
BLUXOM THE EVERYDAY SCRUNCH MILLENNIAL PINK SET OF 3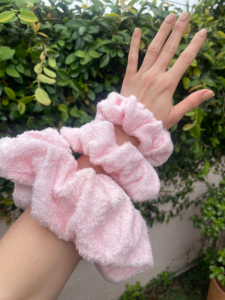 In the summer,  our long hair ends up in a lot more ponytails and buns.   These ultra soft scrunchies not only look cute and are gentle on your locks,  the mega size also doubles as a beach towel for your hair.   The Terry cloth is super absorbent and can be tossed into the wash machine and air dried as needed.  
COLOR WOW DREAM COAT FOR CURLY HAIR SPRAY 6.7oz / 200ml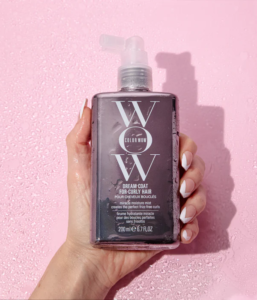 We love the original,  but when you are more likely to air dry,  this one doesn't need heat and it helps bring out even the slightest wave or body in even the straightest hair types.  It protects,  you can layer it with Healing Oil or your other fave products.  And it's not sticky and won't feel gross on day two or if you get a bit sweaty.  
VIRTUE HEALING OIL 1.7oz / 50ml
Just like your body needs oil, so does your hair.   We love healing oil for its star ingredient,  Alpha Keratin 60KU.  It smoothes,  hydrates and protects against humidity and heat.   And it's light enough that you can reapply multiple times a day. 
ESW BEAUTY AVOCADO BANANA HYDRATING PLANT-BASED MASK BOX 5 MASKS
Summer trips, long flights,  too much sun after a day at the beach got your skin feeling dehydrated and tight?   This compostable, biodegradable compact face mask will help with all your summer skin woes.   And we love that you can recycle the package too!
IN COMMON VELVET CLOUD UNIVERSAL MASK 4.7oz / 140ml
When those ends are feeling dry and you haven't got around to getting a cut,  this mask is a life saver.   It works on all hair types, is super light yet nourishing and you can replace your regular conditioner with it if your ends need a little TLC this summer.  
MOMOTARO SALVE ORGANIC BALM FOR VULVOVAGINAL DRYNESS & IRRITATION 1oz / 30g
In the summer we drink more,  get a little more action between the sheets,  are more likely to be dehydrated and maybe stay in our sweaty gym clothes longer or worse a wet bathing suit.   All of these things throw off our vagina's natural biome.   This salve is a must to keep everything feeling normal down there.   Keep one in your purse and one in your medicine cabinet and reapply often.   We love that it's natural,  organic and made in the USA. 
SALT & STONE SANTAL NATURAL DEODORANT FORMULA Nº 1 2.6oz / 75g
We all know natural deodorant is the only way to go these days.   But finding one that works on the dog days of summer is a challenge.   Trust me,  the formula one Santal deodorant from Salt and Stone will not disappoint!   It smells incredible and is still there after an intense HIIT work out or a long ass hike.   The fragrance is gorgeous,  but not too overpowering.